This month marks the 50th anniversary of the passage of Title IX, the federal civil rights law that prohibits sex-based discrimination in any educational institution that receives federal funding. The IX Awards (The IXs) recognizes outstanding individuals who have been instrumental in the fight for equality in sports and beyond. The proceeds of this event benefitted the IXs Foundation, which supports programs to advance the participation of girls in sports and promote equal opportunities for girls and boys in the Las Vegas community!
Michael E. Minden Diamond Jewelers was commissioned to custom create The Official Diamond IX Award Necklaces. These Diamond Award Necklaces features a Diamond 'IX' pendant with special engraving "The IXs Las Vegas 06.27.2022" on the reverse side. There are 16 Diamond Award Necklace recipients for 2022!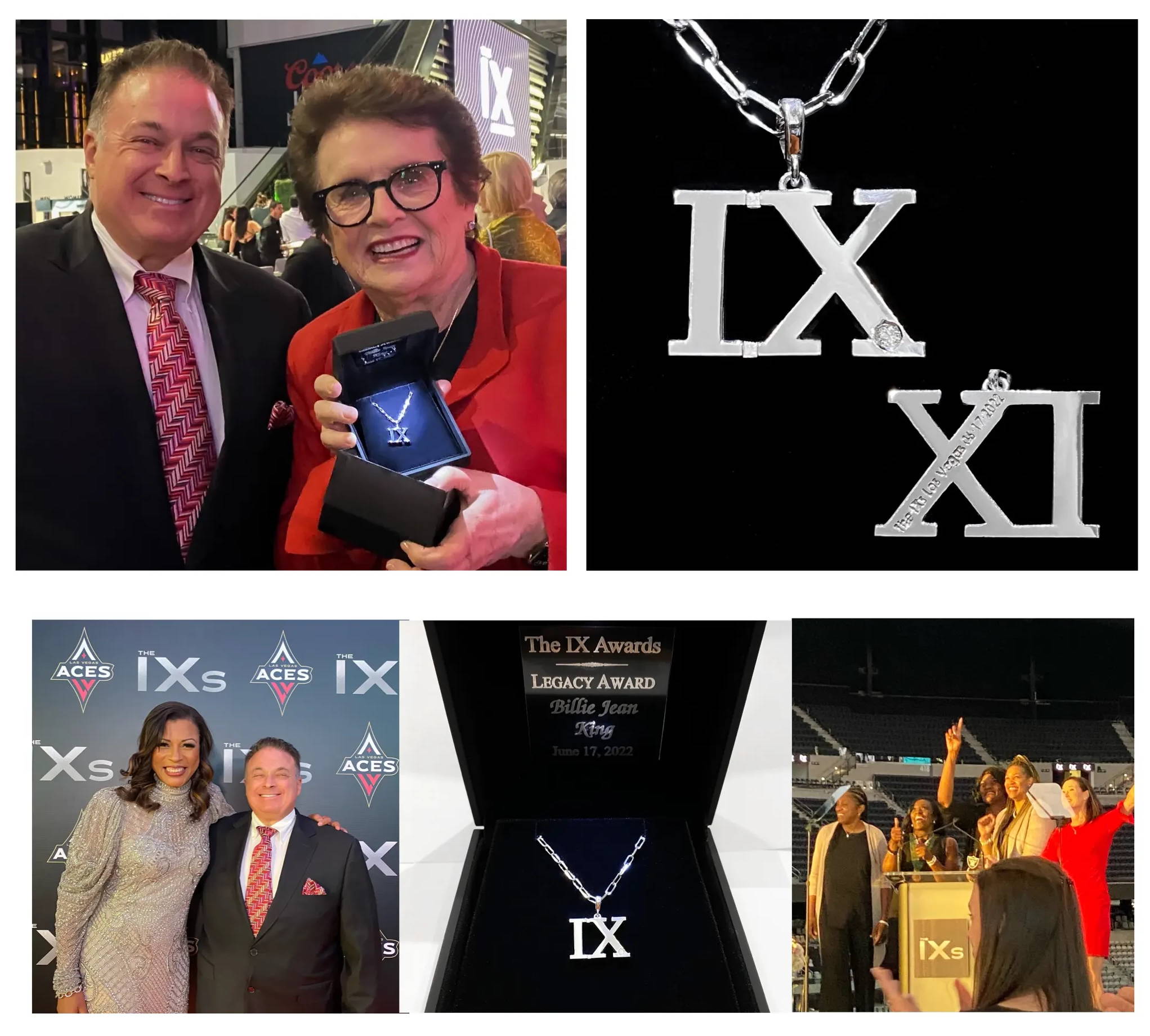 We have a proud legacy of creating National Championship trophies, National Football and Baseball awards, The World Series of Poker bracelets, Hollywood projects and the Miss USA crown. We were honored to design these Official Diamond IX Award Necklaces to commemorate women of change and the advancement of human rights.
The IX Awards were presented at Allegiant Stadium on June 17, 2022 at 6:00pm, where The IXs honored Billie Jean King with The Legacy Award; the 1996 Women's Gold Medal Winning Basketball Teammates with the Game Changer Award; former Las Vegas Mayor Jan Jones Blackhurst with the Impact Award; and resident physician at the Kirk Kerkorian School of Medicine at UNLV, Ashley Prandecki, with the Empowerment Award. The Las Vegas Aces are the presenting partner of these Inaugural IX Awards.
Slide through these photos from this incredible event!